This article contains (Amazon) affiliate links, see my full disclosure at the bottom of the page.
Every teenage girl has her own body proportions. Girls of the same age may need a totally different size and style of sports bra. I've selected 10 different sports bras for girls

What styles of teen sports bra can I find?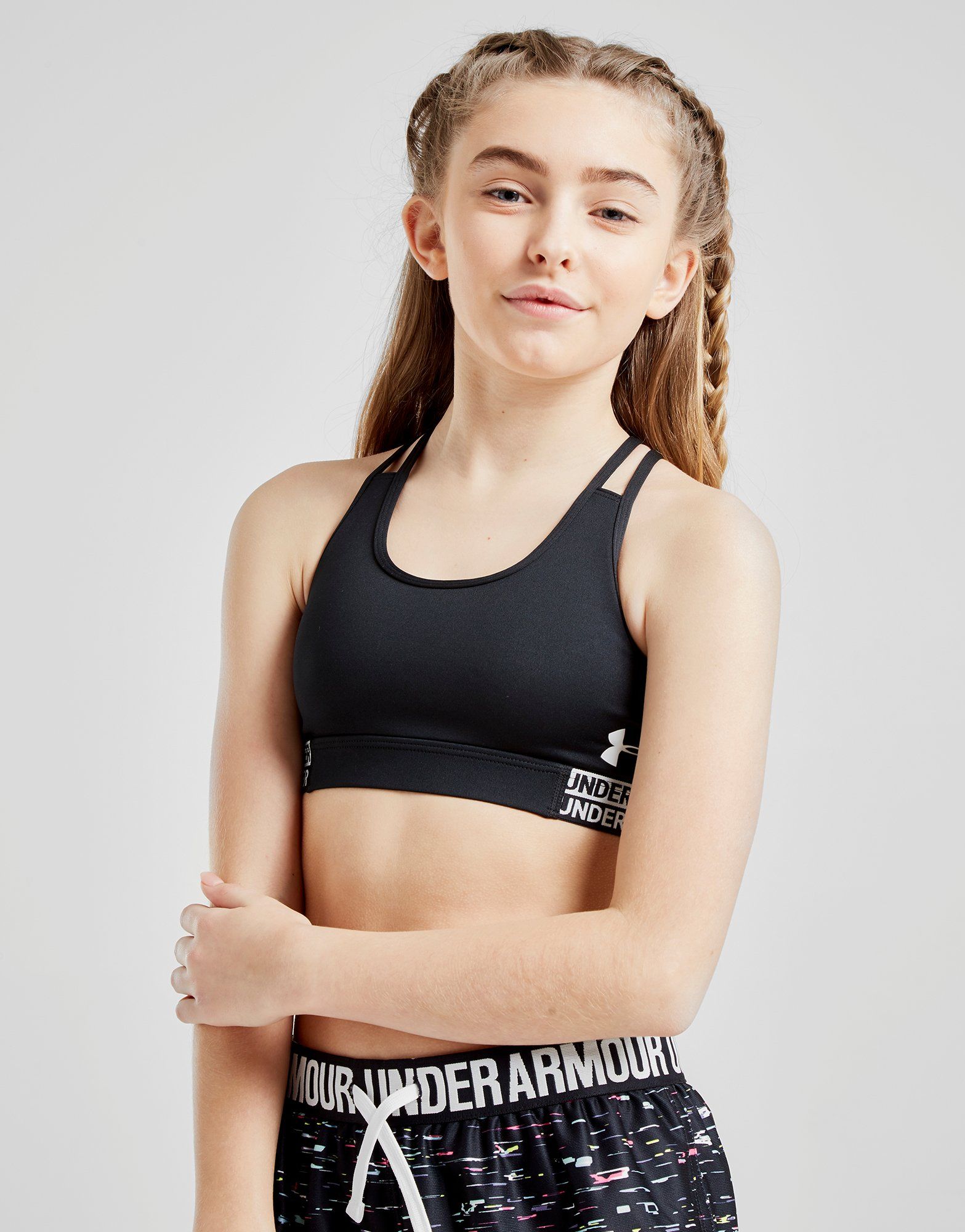 Under Armour Girls' HeatGear Armour Sports Bra | See all 10 teen sports bras

Sports bras with a cup size design
Sport teen bras with a cup design start from A cup and go up to B cup.
Needing a bigger cup size you would need to shop for adult brands (hardy any brands focus on cup-sized teen bras). You might take a look at my article on grown-up sports bras for small cups
Buying your first cup-sized bra? See my article on how to measure and find a teen bra A-C cups
AAA, AA, A cups | Shop at lulalu.com

Sports tops in a bralette style
Sports tops are less supportive than a cup-sized sports bra or a racerback style. A good choice for low-impact sports and breasts that are just beginning to develop.
They are easy to wear and are of course comfortable for daily wear too.

Racerback sports tops for teens
A racerback design is great for doing sports. You have the freedom of movement without having to worry about shoulder straps sliding down.

How do I know my sports bra size?
There's no such thing as a standard bra size for a teenage girl. A 13-year-old girl can have a cup A (or smaller or bigger). But it might also be a cup-sized bra is still too big for here. Her breasts may not have started to mature and grow yet.
Petite adult women may fit certain teen bras because they have a small cup size, like AAA, AA or A. On the other hand, a teenager may have developed the same size as an adult woman wearing B, C, D, or larger cups.
Knowing this, it all comes down to measuring your underbust and bust size. If your breasts have not yet grown yet it's ok to just measure your underbust.
US Size
Age
(in years)
Height
(in inches)
Chest
(in inches)
Waist
(in inches)
XS
6 – 7
48 – 50
25.5 – 27.0
23.5 – 24.0
S
8 – 9
50 – 54
27.0 – 29.0
24.0 – 25.0
M
10 – 11
54 – 57
29.0 – 31.0
25.0 – 27.0
L
12 – 13
57 – 61
31.0 – 33.5
27.0 – 28.0
XL
14+
61 – 65
33.5 – 36.5
28.0 – 29.5
There is no such thing as being too small or too big. We are all unique! Nature brings us in different beautiful shapes and sizes.
Use my bra calculator to find out which band and cup size will be the best for you.

10 sports bras for teen girls

1. Royce impact-free racerback sports bra | A-B cup
Royce Impact Free Petite Wire-Free Sports Bra | See details at Amazon.com
✔ cup-sized sports bra from the UK lingerie brand Royce
✔ made with 65% cotton
✔ racerback style
✔ designed for growing girls but also suitable for petite grown-ups
✔ comes with removable foam pads
✔ available in 30-34a and 30-36b

2. Maidenform girls' seamless racerback sports bra | S-XXL
Maidenform Girls' Seamless Racerback Sports Bra | See details at Amazon.com
✔ their fabulous starter bra for girls
✔ US size 4 up to 16
✔ pull-on closure racerback style
✔ comfortable and lightweight

3. Under Armour girls' Heatgear sports bra | XS-XL
Under Armour Girls' HeatGear Armour Sports Bra | See details at Amazon.com
✔ 4-way stretch fabric
✔ made with anti-odor technology
✔ in many colors available
✔ has a thin padding

4. Nike Older Kids' (Girls') Sports Bra | XS-XL
Nike Older Kids' (Girls') Sports Bra | See details at Amazon.com
✔ racerback sports bra by Nike
✔ thick knit fabric
✔ Dri-Fit technology

5. bebe Girls Seamless Racerback Sports Bra with Removable Pads (4 Pack)
bebe Girls Seamless Racerback Sports Bra with Removable Pads (4 Pack) | See details at Amazon.com
✔ cross strap design
✔ seamless
✔ racerback style
✔ easy care, made of 92% nylon and 8% spandex

6. Calvin Klein girls' big seamless hybrid bra | 30-36 A
Calvin Klein Girls' Big Seamless Hybrid Bra | See details at Amazon.com
✔ starter bra from Calvin Klein
✔ adjustable straps
✔ the very light lining prevents the nipples from showing
✔ easy care, made of polyester, nylon, and spandex knit

7. Amazon essentials girl's 2-pack active sports bra | XS-XL
Amazon Essentials Girl's 2-Pack Active Sports Bra | See details at Amazon.com
✔ pack of 2
✔ light support
✔ seam-free, soft and stretchy
✔ great choice when not needing a cup-sized bra yet

8. Arlumi longline crop top with built-in bra | S-L
Arlumi Longline Camisole Crop Sports Bra for Teen Girl | See details at Amazon.com
✔ lightweight soft crop top
✔ removable built-in pad cushion
✔ supports and reveals a charming curve
✔ for A, B, and C cups

9. MANJIAMEI big girls cotton training bra lightly padded | 32-38A
MANJIAMEI Big Girls Cotton Training Bras Wireless Light Padded A Cup Sports Bra | See details at Amazon.com
✔ lightly padded training bra
✔ soft 100% cotton inside
✔ good support for sports
✔ also a basic everyday bra for developing teens with a cup A

10. Barbra wireless lightly padded training bra 5 Pack | 30-36A
Barbra Lingerie Big Girls Bras for Teen Girl Wireless | See details at Amazon.com
✔ training bra for preteen girls and small petite grown-ups
✔ molded lightly padded cups
✔ made of cotton and spandex
✔ lightly padded which is sewn in, so it is not removable

Other articles you might like
Teen bras for A-C cups
What is the smallest bra size online?
Small bra size chart for AAA-A cups
How to measure your bra band size?
Sports bras for small cups AA-C
Your guide for A cup bras & swimwear
AAA, AA, A cups | Shop at lulalu.com